Eric Rumsey recently RT'd on Twitter "11 Must Know Tips and Tricks for Twitter."  I have been on Twitter for a while and I learned a lot of things from this article.  Some of the things on the article are more organizations interested in the impact of their tweets and metrics of those who follow or unfollow (good if you are running a library account).  There were a few other tips that are good for individual Twitterers like:
Advance Search on TweetDeck (right up librarian searchy mentalities)
Tweetcaster for Android users
Share Flickr photos on Twitter using Fick to Twitt
Find trending topics
Find deals/coupons on Twitter
Browse your Twitter friends
This list, plus the fact that MLA is only a week away, gave me the idea to come up with a few "must know" Twitter tips for MLA people.
Check your Settings!!
The most common questions I get from people are: "Why aren't my tweets showing up in the hashtag stream?" "Why didn't you see my tweet?"  The reason is most likely because you checked the privacy box, which makes your tweets only viewable to people who follow you.  The privacy box is a great way to keep your tweets private, but if you keep it checked you aren't going to be able to effectively participate in the #mlanet11 discussions because we won't be able to see your tweets!
Consider a third party Twitter application
Twitter page itself can be a little limited, in fact most of the things that we all know and associate with Twitter like #hashtags and @'s (replying to somebody like @krafty), were created and adopted by users, not Twitter.  I feel Twitter has been slow to exploit these helpful symbols and functions and their "new and improved" site still does a poor job of dealing with them.  TweetDeck and HootSuite do a MUCH better job.  TweetDeck and HootSuite at first blush look intimidating with its multiple column format.  But once you get used to it, it is extremely useful and easy to follow.  You can set a column just to be following tweets with the #mlanet11 hashtag.  TweetDeck is an app that is installed on a computer or your smartphone.  Hootsuite is hosted on the web, making installation on the computer unnecessary.  Hootsuite does have an iPhone app as well.  I primarily use TweetDeck but I also have a Hootsuite account so I can check tweets (without going to the crummy Twitter site) on computers other than my own. 
Take a look here to see some of my columns on TweetDeck and how I can monitor All Friends, Mentions (people who @ or RT me), and #mlanet11.
Know and use the hashtags
Your tweets won't get picked up and seen as easily (thus limiting your conversation) if you forget to use the hashtags.  The hastag for the conference is #mlanet11.  Others you might be interested in are: #mlattt (MLA Tech Trends program) and #medlibs (tweets of interest to medical librarians). 
*If anybody has any other hashtags that are used a lot in the medical library world or for this conference, please list them in the comments. 
It may get a little tiring to constantly remember to use the hashtag, this is where a third party Twitter app may come in handy.  I know in TweetDeck if you click on the # symbol just below the text box, you can select and use a recent hashtag for your tweet instead of typing it out each time.  This is also possible on TweetDeck's iPhone app.   Now you have to have used the hashtag a few times for it to get in the list but once you do, it is there and it is a lot easier to tap or click on it rather than typing it out each time.
Observe and experiment EARLY
If you haven't signed up with Twitter but plan to tweet at the conference, or at least lurk on Twitter and view the conference tweets, then start early.  It isn't hard to tweet, but you will find you get more comfortable participating by watching and responding to people before the conference starts.  Use this week to find your twitter legs.  It takes some practice getting used to sending messages in under 140 characters (including the hashtag).  If you use this time to practice reading and sending out some tweets you will feel a little more comfortable about participating during the conference.  Don't worry if you make mistakes, many librarians on the Twittersphere are more than willing to help you out and get you in the tweeting scheme of things in no time. 
I can't tell you how you will use Twitter.  Only through observation and experimentation will you begin to understand how it can fit in your life.  It is an evolutionary communication process (see the picture below).  I don't mean to say that Twitter is the next step up on the communicating evolutionary train.  I mean to communicate effectively within Twitter, it is a process that you evolve within.  For example you will find it hard to state things in less than 140 characters (everybody does at first) and you might send multiple tweets to get your point across.  Eventually you will learn and your tweets will evolve to where you are able to communicate a lot of things in 140 characters.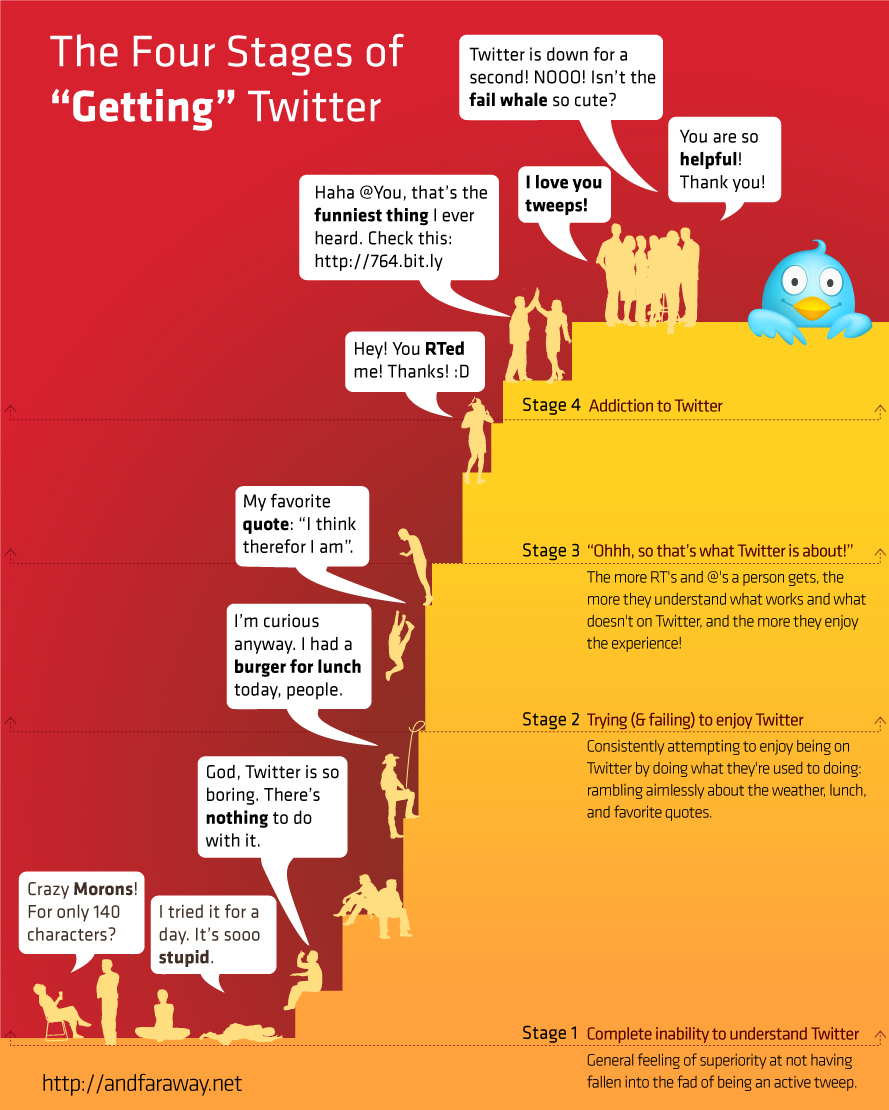 Have Fun!
This is probably the most important tip.  Use the conference as a perfect opportunity to try out a new tool in a fun way.  Remember for those of you who took the MLA Twitter Tutorial, you get a free drink ticket for the TweetUp. That is what I call fun.